From the way we hire new talent to our pay and reward practices, we want to make sure that diversity, equality and inclusion runs through everything we do at Audley Group like a watermark. Across our everyday operations and our social and cultural initiatives, everyone should feel included, and empowered to develop their full potential.

Audley Group already has many talented people from a wide mix of groups; however we know we have some work to do to be truly representative of the modern world we all live within.

To support us with our DE&I plans and strategy we have our Steering Committee with members drawn from across Audley Group to represent Senior figures to those in customer facing roles.

To truly foster an inclusive culture, we must live up to our promise to every employee; to use their skills, passion and empathy to the full, and give them the opportunity to grow and develop with us, regardless of their race, religion etc.

Together, we'll drive change for everyone.
A message from our CEO
"To achieve a truly inclusive, equal and diverse workforce, organisations need to start by reflecting on themselves from the top down. Audley will be following this thought process and exploring ways that we can continue to develop and embed a diverse workforce and a culture that underpins our commitment. The mission is to achieve a successful culture that ensures that we do not miss out on or exclude the experiences that all individuals can bring – experiences that will contribute to our ongoing success and future growth."
Nick Sanderson
A message from our Academy Partner - DE&I, Culture and ESG
"The Academy is committed to supporting Diversity, Equality & Inclusion. We do this by engaging with, and learning about, the viewpoints and experiences of all our Audley Group team members. We consider what's important to our team members and ensure that we are supporting with the right information and committing to what we believe is the right thing to do. We believe that The Academy does not belong to us as an organisation but belongs to us all as individuals. Every single team member who works at Audley Group has a stake in it. This ethos is important to us and helps ensure we provide the best, most relevant information that supports our DE&I & ESG culture. Together, we're building a culture of inclusivity, authenticity, equality and diversity of which we can all be proud."
Charlotte Osei
Academy Partner - DE&I, Culture and ESG
Steering us forward – our DE&I Committee's work
The members of our DE&I Steering committee are consistently working to drive change.
Right now, they're:
Working towards achieving further DE&I accreditations, through sharing our good practice.
Reviewing our policies that support DE&I, making sure they are in keeping with environmental and legislative changes.
Building upon our DE&I communication strategy, including our internal support network model.
Compiling our DE&I data and working on a strategy to improve upon this where needed.
Educating our team members on DE&I related subjects through training, blogs, webinars, and workshops.
Environmental Social Governance (ESG)
ESG is a framework that helps stakeholders understand how an organisation is managing risks and opportunities related to environmental, social, and governance criteria.
At Audey Group we invest in maintaining our reputations as an ethically conscious employer. Therefore, we are committed to ensuring our practices are environmentally friendly, we adhere to our governing bodies & support both our internal and local communities.
We do this though our working groups, each of which have their own set objectives that guide us to achieve and maintain our GRESB score each year. GRESB supports us to peer benchmark our performance and to aid our investors who use ESG data. Follow the link for more information on GRESB.
For more information click here to download our 2022 ESG report.
Diversity is in our DNA
Our team members have made our values a key part of their working lives. They are also intrinsically linked to our drive to continuously improve diversity, equality and inclusion across Audley Group.
Proud
Work in a company that's best in class whether it's the food we serve, the care we provide or the benefits we offer.
We are proud to be diverse, equal and inclusive
To be the best in class, we must create a working environment where people from every walk of life can succeed in their aims and ambitions. We also need to ensure that everyone has equal access to rewards, promotion and development, so that everyone is driving an exceptional performance, and sharing fairly in our joint success.
Caring
We create warm, friendly environments to live and work in, where empathy and respect abound.
Caring about diversity, equality & inclusion
We have to go beyond a warm welcome to ensure we understand each other's backgrounds and appreciate what our differences mean in the workplace.
Enriching
Grow and develop within an innovative company that's changing the way people view retirement.
Enriched by diversity, equality and inclusion
Our innovation and growth as a business hinge on our ability to harness the experiences, perspectives and skills of people from different backgrounds and cultures to produce unique ideas and ways of working.
Exceptional
A career where your skills, passion and dedication will deliver the exceptional every day.
Exceptional because of diversity, equality and inclusion
We want everyone to understand that it's our collective talents and enthusiasm for our work that keeps us at the forefront of the industry. We must be doing some things right. After all, 93% of our people say they're proud to work here and 87% want to progress with us. We need to build on our successes and turn the best intentions on diversity, equality and inclusion into undeniable results.
Awards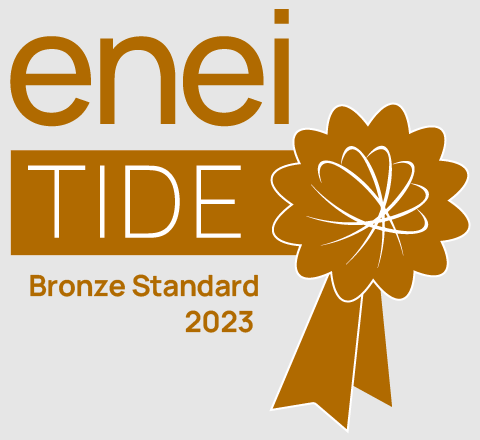 For the second year running we have achieved the Bronze TIDEmark with the enei (employers network for equality and Inclusion)
What is TIDE?
TIDE is enei's self-assessment evaluation and benchmarking tool. It measures an organisation's approach and progress on diversity, equality and inclusion (DE&I) in the following areas:
Your workforce
Strategy and plan
Leadership and accountability
Recruitment and attraction
Training and development
Other employment practices
Communication and engagement
Procurement
What does this award mean?
Each year we complete an evaluation on what we do towards DE&I, how we work, what our initiatives are & how we measure and evaluate what we do as a business. This is then submitted and benchmarked against other members of the enei. A select few will then be awarded a Bronze, Silver or Gold award.
If you are interested in DE&I or would like to understand what we do at Audley Group to enable a safe open space for our team members, feel free to email me at charlotte.osei@audleygroup.com.